Scientists Hunting for Missing Carbon May Have Been Looking in the Wrong Place
An analysis of airborne atmospheric carbon dioxide measurements has revealed that forests in northern mid- to upper-latitudes are removing much less carbon dioxide from the atmosphere than previously thought, and that intact tropical forests are removing much more.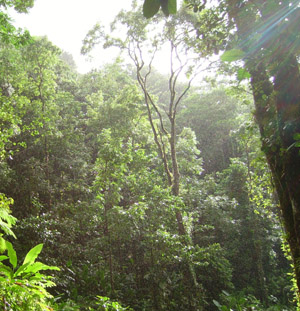 We believe our results, reported in the June 22, 2007 issue of Science, are a major step towards resolving the missing carbon sink and will help others improve climate change projections and assess potential mitigation strategies.

Ever since scientists started systematically measuring atmospheric carbon dioxide 50 years ago we have been trying to figure out where the carbon dioxide we emit to the atmosphere as a result of fossil-fuel burning and deforestation ends up. We know that over the decade of the 1990ís 40% of the 8 billion tons of carbon we emitted each year stayed in the atmosphere and that roughly 30% was taken up by the worlds oceans and 30% by land plants (IPCC AR4 WG1, 2007), but we donít understand where and why this uptake on land is occurring well enough to predict its behavior in the future.

For the past 15 years, computer models of the atmosphere using information on winds and measurements of carbon dioxide taken near the ground have indicated that most of these 2.6 billion tons of carbon are being taken up in the Northern Hemisphere, but researchers have been able to account for only about half of this uptake on the ground. The remainder is often referred to as the "missing carbon sink." We also know that the tropics are a large source of carbon to the atmosphere as a result of deforestation, but it's been unclear how much carbon the intact forests are taking up. Local-scale studies suggesting strong uptake in intact tropical forests have been intensely scrutinized, partly because they were in disagreement with the atmospheric model predictions.

We analyzed measurements of carbon dioxide concentration made on flasks of air collected by profiling aircraft approximately biweekly at 12 sampling locations around the world. Several of these records extended over 20 years, but until recently there were not enough sites and the data had not been synthesized to provide a clear picture of carbon fluxes on global scales. We compared these measurements to the predictions of atmospheric carbon models participating in the recent TransCom 3 intercomparison project and found that in general, the models underestimated carbon dioxide concentrations at altitude over the Northern Hemisphere.

It appears that the atmospheric models have a tendency to mix too much carbon dioxide down in summer when photosynthesis is removing it at the ground and in some cases not enough up in winter when respiration and fossil-fuel burning are releasing it, which we were only able to see by comparing to the aircraft measurements. The few models that most accurately reproduced the observed annual-mean vertical CO2 gradients predict that around 1 billion tons less carbon per year is going into northern forests than previously thought and that in the tropics the balance between emission from deforestation and uptake in intact forests is emitting almost 2 billion tons of carbon less per year than previously thought.

One of the largest uncertainties in predicting climate change, second only to what people will do, is what forests will do. Our study will help researchers understand what forests are doing now, which is critical for predicting how they will behave in the future. If the regrowth of previously logged forests in the north is responsible for most of the current carbon uptake it is a very different outlook than if carbon dioxide fertilization or climate change in the tropics is responsible. A sink from regrowth would tend to decrease over time as forests mature, whereas a sink from carbon dioxide fertilization or climate change may tend to increase over time. However, it is also true that a sink in mature tropical forests may be highly sensitive to future changes in temperature and precipitation.

Our results suggest that northern countries cannot rely on their forests to help offset their carbon emissions as much as they might have hoped, but that tropical countries can significantly help slow down global warming by preserving their forests. However, relying on trees to mitigate climate change is not a good long-term strategy, as all of the carbon trees store gets returned to the atmosphere on a timescale of around 30 years when they die and decompose. Afforestation and reforestation can provide short-term sinks to slow warming and possibly give us more time to find solutions, but ultimately we need to get the carbon into the ocean or geologic reservoirs, or not emit it in the first place.


Stephens et al., Weak northern and strong tropical land carbon uptake from vertical profiles of atmospheric CO2, Science, 316, 22 June 2007.