How the Brain Translates Money into Force: a Neuro-imaging Study of Subliminal Motivation
Most of us consciously work for the paycheck, along with other material and emotional benefits. But motivation may also be hidden. The popular view is that motivation can be completely unconscious, such that a person completes a task but is unaware of the reward or goal at stake. However, empirical evidence on this issue is lacking. We designed an experiment to test whether, and how, the human brain translates higher subliminal incentives into harder physical effort.

We told 18 volunteers (9 women and 9 men) that the harder they squeezed a hand grip, the more money they would receive. Prior to squeezing, participants saw an image of either a one-penny or a one-pound coin, flashed on a computer screen, indicating the amount of money at stake. After squeezing, subjects were shown their exact payoff, which was equal to the fraction of the monetary stake proportional to the force exerted on the hand grip. Thus, they accumulated money trial after trial, though negligibly when one penny was at stake, relative to one pound. In some trials, flashing was long enough to trigger conscious perception of the coin image. In others, perception was subliminal, which means that flashing was too short for the coin image to reach the subjectís awareness. To make this point, we checked that participants were unable to reliably report whether the coin image was a penny or a pound.

Analysis of the force exerted on the hand grip showed that, even when participants were unaware of the money at stake, they nonetheless squeezed harder for higher amounts. We also measured skin conductance while volunteers were performing the task. Coin images elicited a transient increase in skin conductance, reflecting an emotional response to the monetary incentive. This response was greater for higher amounts, even when subliminally flashed. Thus, the subliminal motivation evidenced here was not mere visuo-motor association, but involved emotional participation from the volunteers.

Finally, we measured brain activity using functional magnetic resonance imaging. We found only one region to be significantly more activated by pounds than by pennies. This region was centred on the ventral pallidum, a subcortical structure located in the basal forebrain. Many experiments in rodents had already implicated the ventral pallidum in reward-related processes. We also found that activity in cortical motor areas correlated with the force produced on the hand grip, trial after trial. We therefore suggest that the ventral pallidum computes how much reward is at stake, and sustains activity in cortical motor areas driving muscular contractions. Again, this may happen even when a person has no idea of how much reward to expect. The ventral pallidum therefore seems to be a key node in brain circuits that underpin both conscious and subliminal motivation.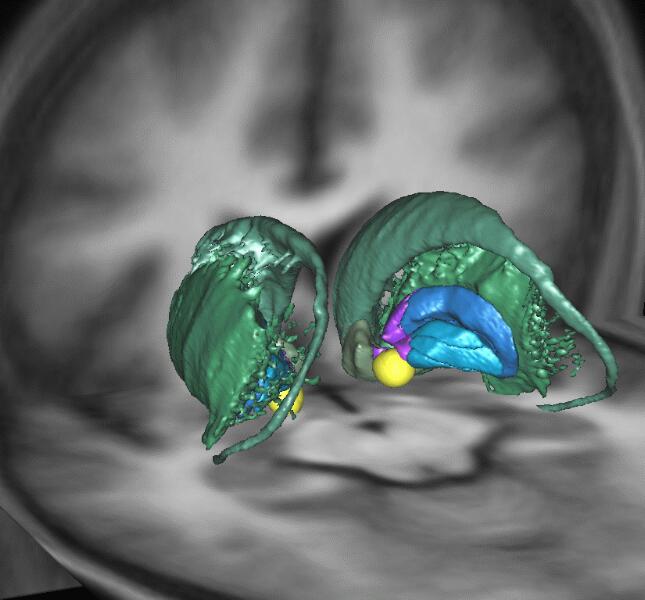 Figure: Among deep brain structures, subliminal motivation was specifically supported by a bilateral region (in yellow) that largely overlaps with theventral pallidum (in violet).








We conclude that the human brain is able to translate expected rewards into physical effort, without the need for the subjectís awareness. However, such finding provides no support to subliminal advertising or to Freudian theory. The interest of subliminal advertising would be that subliminal stimulation has more impact on peopleís behaviour, on the grounds that, without awareness, the victims cannot deploy defensive strategies. But our volunteers showed much smaller behavioural effects with subliminal compared to conscious stimulation: they only squeezed a little harder for higher monetary incentives. The Freudian theory assumes that the unconscious may motivate behaviours that are unwanted by the conscious self. But our objective markers (grip force, skin conductance and brain activity) indicated that volunteers behaved in a same manner when incentives were subliminal as they did when incentives were conscious. In short, subliminal motivation was qualitatively similar to conscious motivation, but much less efficient.

One potential application of our paradigm could be pathological conditions involving motivational deficits, such as apathy, depression or schizophrenia. Indeed, it might be useful to assess and visualise the functionality of basic motivational processes, which may be blurred when conscious calculations about costs and benefits are involved, and hence provide an objective evaluation of different therapeutic strategies.

Reference:

Pessiglione M., et al, How the Brain Translates Money into Force: A Neuroimaging Study of Subliminal Motivation, Science 11 May 2007:Vol. 316. no. 5826, pp. 904 - 906 DOI: 10.1126/science.1140459