"Peak Oil" is Nonsense… Because There's Enough Gas to Last 250 Years.
By confusing a reserve and a resource, and ignoring the energy requirements for extracting unconventional gas and oil, e.g. through hydraulic fracturing (fracking) and retorting oil shale, the mistaken view has emerged that peak oil will not happen, or not for many decades. Quite simply, once the ceiling of conventional crude oil production is reached and the inevitable decline in its supply occurs, an ever greater quantity of unconventional oil will be needed to make up for it. So long as the consequent and deepening "hole" in the output of crude oil can be filled from alternative, unconventional sources, all is well, but once the loss of conventional production exceeds the provision of the latter, the overall sum will pass into the negative; in other words, global oil production will have peaked. It is the rate of recovery of unconventional oil and gas that matters: the size of the tap not the tank.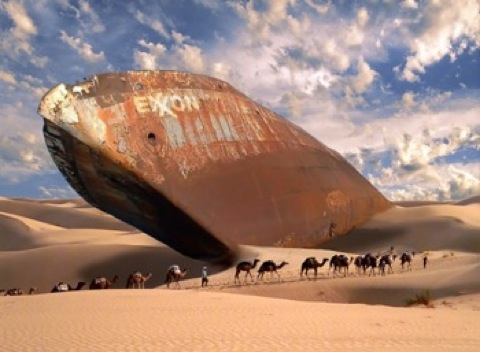 The title is a condensate of the latest rendition from Nigel Lawson, who served Margaret Thatcher's government, both as Secretary of State for Energy and Chancellor of the Exchequer. In a recent interview, published by the Daily Mail (http://www.dailymail.co.uk/debate/article-2244822/Thought-running-fossil-fuels-New-technology-means-Britain-U-S-tap-undreamed-reserves-gas-oil.html), Lord Lawson makes various assertions, each of which invite some consideration and question. At bold face, his conclusions confound the difference between a resource and a reserve. Furthermore, they ignore the fact that it is not the quantity available, but the rate at which it may be recovered - and this not only as a technical but economic reality (this is the "reserve") - which is the determinant of whether and when oil or gas will "peaks an example where the former but not the latter criterion holds, we might say that it is technically feasible to mine minerals from the moon, and bring them back to earth, but in economic terms, the prospect is unrealistic. However, it is the inclusion of all known, proved, probable and theoretical, that is reckoned-up as a resource, not only ignoring technical and economic factors, but the uncertainty of whether the material is there to be had in the first place. A useful analogy for the relationship between the amount in the reserve, and how quickly it may be recovered, is that it is not the size of the tank but the size of the tap that matters.

No sensible person that I am aware of, is saying that oil or gas is going to "run out" any time soon. I give a talk entitled "What happens when the oil runs out?", but I begin by explaining that this is not going to happen, and we will be producing oil for decades to come. That noted, continuing to produce oil at the present rate of 30 billion barrels every year is unlikely to be possible for very much longer. At some point, reckoned to be around now, conventional crude oil production will reach a maximum, and then fall relentlessly. It must - this is the nature of a finite reserve. In principle, so long as that "hole" in the output of crude oil can be filled from alternative, unconventional sources, all is well, but once the loss of conventional production exceeds the provision of the latter, the overall sum will pass into the negative; in other words, global oil production will have peaked.

Lawson begins with mention of the extraction of gas and oil from shale by hydraulic fracturing (frac'ing, for the purists, but more commonly designated as fracking). He is entirely correct that it is new technologies - horizontal drilling combined with fracking - that have brought the cost down sufficiently that exhuming gas and oil from such inaccessible reservoirs is now both practically and economically viable. In principle, shale gas can be recovered all over the world, although until an actual well is drilled, there remains speculation as to how much gas there is and indeed its quality; for example, from several shale wells in Poland, came a gas that was so heavily contaminated with nitrogen that it wouldn't burn. It also contained high levels of hydrogen sulphide, and removing both these other gases to leave pure methane would be extremely costly. That noted, because production from shale wells, of either gas or oil, tends to decline quite rapidly, down to perhaps only 20% of the initial rate within 2 years, more wells must be drilled year on year, to maintain the overall output of a field, and this rate must be elevated to raise gas production, as is sought. Ultimately, the scheme must run up against material limits to the levels of financial investment, infrastructure, equipment and trained personnel that can be brought to bear in the effort.

As to how much shale gas the United States has, claimed in the media as sufficient to last for 100 years, detailed inspection of the available figures reveals this to relate to a resource - i.e. the most optimistic set of accounts - while the reserve (proved plus probable) is more like 20 years worth. Given the known reserves of shale oil, and the expected production from it over the next few years, it is difficult to see how the U.S. will overtake Saudi Arabia, to don once more its crown as the world's greatest oil-producing nation, which would mean an output of about 11 million barrels a day, up from just under 6 mbd currently, by 2017. In the tally of "oil" is included other "liquids", including biofuels, natural gas plant liquids and refinery gains, which compromise the truth, since they have different properties from crude oil - in particular, a lower energy density.

Unsurprisingly, oil shale gets a mention, for which it is claimed there is three times as much "oil" under the U.S. as has been used in the past 100 years. Yes, it's that resource thing again. It is probably worth stressing that oil shale is not the same thing as shale oil. Shale oil (tight oil) is actual crude oil that if recovered, e.g. through horizontal drilling and fracking, can be refined in the normal way. However, oil shale does not contain oil as such, but a solid organic material called kerogen. To produce a material resembling crude oil requires large amounts of energy to heat the kerogen to above 300 degrees centigrade, in order to crack it into liquid form; the process also uses large amounts of freshwater, and churns-out an equal volume of contaminated, wastewater which must be dealt with responsibly.

There is, as yet, no commercial scale production of oil from "oil shale", and there may never be, since it takes almost as much energy to get oil from it as will be delivered by the oil itself, i.e. pointless. The returns are better on "oil sands", maybe 3 to 1, in energy terms - once the material has been "upgraded" to provide a liquid fuel - but here too, vast quantities of water are needed, and sufficient energy is required to extract the bitumen in the first place, that installing nuclear reactors in such locations is being considered seriously as a source of heat, currently generated by burning natural gas.

Lawson concludes, "Today, oil, gas and coal represent 80 per cent of the global energy mix. They will continue to dominate the world's energy markets for decades to come. And within that picture, natural gas is going to offer the cheapest way to produce electricity: cheaper than nuclear energy and massively cheaper than renewables...". He's obviously forgotten about climate change.