"To Believe That Nuclear Power Can Make A Significant Difference Is Really Not Sensible"
Dr. Frank Barnaby is a specialist on nuclear power and technology. He discusses a report he co-authored, which argues against further investment and development of nuclear reactors and technology.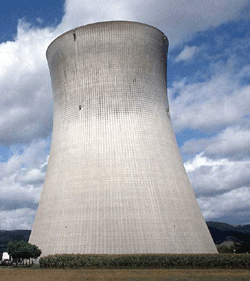 You recently co-published a report entitled, "Too Hot to Handle: The Future of Civil Nuclear Power", which asserts that 4 nuclear reactors would need to be built per month from now until 2070 to make a difference in global CO2 emissions...

The argument is that if nuclear power is going to make a significant difference in global warming, then there has to be a lot of it. In fact, the figures that you've given indicate that. It is virtually impossible to see that amount of nuclear power being constructed and maintained, because we have to remember that a lot of it will be in developing countries. And it is reasonable to question whether they have the expertise and resources to safely manage large nuclear power reactors and also the radioactive waste that those reactors produce. To believe that nuclear power can make a significant difference is really not sensible.

Would you then say that nuclear energy is not the clean energy route?

No, nuclear energy is not. In order to produce nuclear reactors you use a lot of energy, and that energy comes from the burning of fossil fuels. Therefore, you do put some carbon dioxide into the atmosphere. It is perfectly true that the amount is not as much as is produced by fossil fuel plants - coal fire and gas fire plants for example - but it is a significant amount.

Another environmental aspect is, if we are going to go into a large amount of nuclear power, we will very quickly run out of uranium to fuel those nuclear power reactors, which can be mined by the energy economy. In other words, there is only a limited amount of uranium in the world, which you can get out of the ground and use so little energy to get it out that there is a net gain in the energy you produce from it. Once again there is no point in using a very low-grade uranium when the process required puts into the atmosphere more greenhouse gases than you save from the nuclear power reactors.

The shortage of uranium is a major issue. People argue, like the nuclear industry for example, that this is why we need to go into the fast breeder reactor, which uses not uranium as a fuel, but mainly plutonium. That means that we would move in the plutonium economy, which is extremely dangerous because there will be huge amounts of plutonium around that could be used by countries to make nuclear weapons or, perhaps more worrying in today's world, could be acquired by terrorists to make nuclear explosives.

What do you suggest in lieu of nuclear energy to deal with climate change?

Alternative energy sources, particularly solar power, wind power, tidal power. In other words, not fossil fuel energy or nuclear energy, but alternative energy which is relatively clean. Nothing is perfectly clean. There is always a component of greenhouse gas emissions.

Recently in an interview with scitizen.com Professor Foos an expert in nuclear energy states that, "Every type of energy needs to be developed" in order to meet our energy needs. How would you respond to this?

I do see that argument that we should have an energy mix. On the other hand, I don't see very much of a role for nuclear energy. I would personally prefer to have none. If there are situations, for example where there are small nuclear reactors near cities that are remote, then there may be an argument for them. But I would want to minimize them as much as possible.

Interview by: Christopher Le Coq

Frank Barnaby you are a Nuclear Issues Consultant at the Oxford Research Group and a nuclear physicist by training and worked at the Atomic Weapons Research Establishment.