?There Are a Lot of Similar Issues Regardless of Where the Students Are?
The American magazine Science has conducted a worldwide study about science teaching in undergraduate education (published in last week?s issue). Interview with Jeffrey Mervis, Science Deputy News Editor.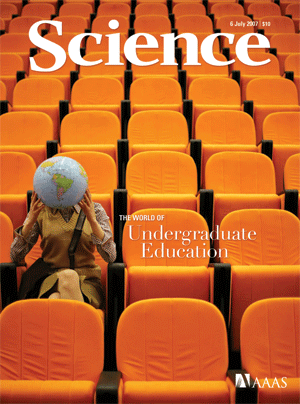 This is the second time in a month the news section of Science focuses on teaching. What motivated these studies?

We've always been interested in education and we try to cover it on a regular basis but we had an opportunity to go into a little more details in two areas. The issue that you refer to from June, 1 focuses on new approaches to try to attract scientist and math majors into the teaching profession. This has traditionally not been a career route for undergraduates that are talented in science and math. In the second issue we did look at undergraduate science and math education


Science's cover


What are the main trends of this new study?

We found that there are a lot of similar issues regardless of where the students are. One thing I found interesting was that whether you're in China or in Austria or in Brazil, you have to wrestle with the issue of teaching in English because that has become the common scientific language. Countries around the world also have to deal with declining interest by students in science and try to improve the content and quality of the courses to make them more appealing to students. These are some of the common trends that we found.

What did it tell you about the place of science in the society today?

There has been a large expansion of the framework of higher education in many developing countries and I think that this is an indication of how seriously they take the importance of science. What we're trying to do is to explore some of the obstacles that they have to overcome, the issues that they have to deal with in order to create the kinds of infrastructures that they think will give them a workforce that is capable of competing against the rest of the world in the 21st century.

Interview by: Clementine Fullias

Jeffrey Mervis is Deputy News Editor for Science

Reference:

Special issue The World of Undergraduate Education, Science 6 July 2007:Vol. 317.